Model Auxiscope
Condition: New
Price: $164.99
In stock
Only 2 left in stock - order soon.
Starring a dual-channel 50 MS/s Bluetooth oscilloscope, the Auxiscope is the world's first lab instrument which works on a tablet and a smartphone using Bluetooth.
An oscilloscope is the basic measurement device for anyone involved in hardware tinkering: it allows you to see how the voltage behaves at any point in your design, at an y moment in time. Much like a breakpoint in a software, which allows you to verify the value of all variables at a certain moment in time. The Auxiscope should be the tool to optimize the debugging and development of your project.
Software
Free updates
You can't usually upgrade traditional test equipment. If the device is upgradable it will often need a time–consuming and expensive trip back to the manufacturer. Auxiscope Bluetooth DSO OPX-1600, 2 Ch, 12 MHz, 50 MS/s Red software is regularly updated with feature extensions and improvements. These can be downloaded for free from our website or Google-Play and ensure that your oscilloscope will always have the latest features and enhancements. You install new version of AR-Oscilloscope, connect to Auxiscope Bluetooth DSO OPX-1600, 2 Ch, 12 MHz, 50 MS/s Red and upload new version of firmware to device.
User Interface
On all existing USB oscilloscopes, the software clearly has been an afterthought. While competitors try to imitate traditional scopes by literally demanding the user to rotate knobs with a mouse, the Auxiscope reinvents the way we will operate oscilloscopes: by making full use of the touchscreen and wireless!
The Auxiscope allows everyone to own a personal lab in their pockets!
Benefits
Wireless
Portability
Useing of touchscreen capabilities for app controlling;
Simple to use, intuitive.
Galvanic isolation
Features
Measure: frequency, min/max, peak-peak;
Cursors, which are lines that can be moved about the screen to measure the time interval between two poi nts,
or the difference between two voltages;
Types of trigger: Auto, Scan, Normal and Single;
Device battery level;
Trigger level information;
Save signal data to file in csv format;
Control the following functions
Start/stop/single acquisition;
Change time/div with two fingers motion;
Change volts/div with two fingers motion;
Turn channels on/off;
Horisontal position of signal on screen;
Select trigger type/level;
User's Guide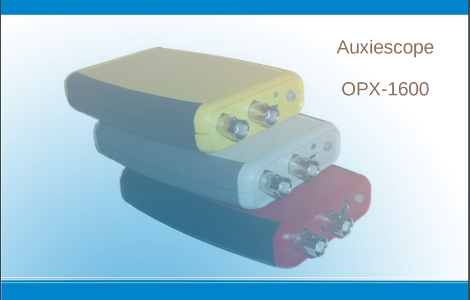 Video
Technical Details
Number of channels
Analog bandwidth
Resolution
Sample rate
Buffer length
DC accuracy
Linearity
Input impedance
Input coupling
Auto measure
Cursor measurement
Time base range
Vertical sensitivity
Triggers
Max input voltage
Battery life
Communication
Dimensions
Weight

2
12 MHz
8 bit
50 MS/s each channel
2000 points
+/- 5%
+/- 1 LSB
1 MΩ, in parallel with 20 pF
AC/DC
Vmax, Vmin, Vamp, Freq, Period
Period, Voltage
500 ns - 10 s / div
10 mV/div - 1V/div (1x probe), 100 mV/div - 10V/div (10x probe)
Auto, Normal, Single
8 Vpp (1x probe), 80 Vpp (10x probe)
5 hours
Bluetooth, SPP profile (Android, Windows, Linux, OS X)
147 x 89 x 25 mm (5.8 x 3.5 x 0.98 in)
125 g (4.4 oz)

Hardware triggers

Trigger modes
Basic triggers
Trigger source

Normal, auto, single, SCAN
Rising / falling edge triggers
CH1/CH2

Software

Android
Windows
Linux
Mac OSX

General

Charging
Total Satisfaction
Guarantee

Warranty
Price

Micro USB connector
In the event that this product does not fully meet your requirements
you can return it for an exchange or refund. To claim,
the product must be returned in good condition within 14 days.
1 year
$164.99

Package content

Auxiscope Bluetooth DSO OPX-1600, 2 Ch, 12 MHz, 50 MS/s Red
Probes are not included